Blog
6 Reasons to Add Construction Windscreens to a Site
June 19, 2014
It doesn't matter if you're building a luxury hotel or renovating a turn-of-the-century structure into an office complex, when you're in the midst of developing a property, problems come up: The worksite is a mess and the neighborhood doesn't like it. It's hard to keep out random visitors or passersby, despite the hazards at the site. The client wants more privacy. Dust and debris is everywhere. Everything's taking longer than projected, and your client wants to start marketing now. What can you do?
Here's the good news - There is a way to respond to all of these concerns, conveniently and cost effectively: construction windscreen. By installing a customized windscreen around your worksite, you improve its visual appearance, boost safety and security, keep sensitive information private, control dust and give your client a way to market their business long before project completion.
Here's a closer look at six of the specific reasons adding construction windscreens makes so much sense:
A Way to Manage Site's Appearance: Let's face it: construction zones can be unsightly. Building codes in certain communities will demand that construction sites put up windscreens to minimize the visual distraction in the community. A lot of building or renovation projects last for years, and during that time, you've got a virtual eyesore standing where your future structure will be. This can annoy the neighborhood and doesn't generate a lot of goodwill for future business. So to improve the aesthetics of the site, a construction windscreen is crucial. It adds a clean, attractive barrier around the site that minimizes the unattractiveness of the construction process and makes everything a little easier on the eyes. For the sake of making a strong first impression on the community, construction windscreens are a huge asset. Plus, forget one-size-fits-all: windscreens come in multiple styles, sizes, colors, weights and weave openings. A windscreen can work at virtually any of your construction sites, whatever their size or location.
A Boost in Safety: If there's one thing construction zones are, it's filled with hazards. While fences do a good job of limiting the passage of individuals, they're only minimally effective when it comes to preventing dust and other lightweight debris from spreading. Most reputable contractors follow OSHA, NIOSH and environmental safety guidelines in order to prevent their sites from propagating airborne contaminants, and windscreens are often considered effective dust control solutions. A windscreen can help you add security to your worksite that keeps unauthorized personnel from stepping foot where they shouldn't. By wrapping around the construction zone, it helps you control access to your worksite, which is crucial for minimizing exposure to the hazards of flying debris, site dust and other materials that could cause harm.
Higher Levels of Privacy and Security: Say you're building something with confidential materials or technologies inside. Your client may want to conceal wiring layouts, and the location of structural members and basement access points. While this seems like something out of a spy novel, such controls are increasingly common in data centers and other tech facilities. Your client won't want the surrounding neighborhood or curious members of the competition to be able to peek into the site and figure out what's going on. With a construction windscreen, you add privacy to your project, keeping details away from the public.
Minimized Dust Exposure: You might not realize that construction windscreens are protecting your workers as well as your facilities, but it's true. Not only does a windscreen create a deterrent for unauthorized visitors, but it also acts as a real barrier for dust and other airborne particles. These contaminants can be serious hazards to health as well as annoying and costly to clean. The construction windscreen helps you contain and minimize all kinds of particles like these.
Business Marketing to the Community: Building or renovating your business space can be a very costly undertaking. However, your construction zone is probably going to be sheltered by a windscreen for several months — maybe even a year or longer. During that time, you can use these windscreens for "free" advertising for your company and your upcoming projects. Construction windscreens come in all colors and styles, so it's just as possible to set up a solid-color windscreen as it is to set up a windscreen with a company's brand messaging front and center. And in this way, a crucial safety feature becomes a valuable marketing tool. Just as you'd advertise a business on billboards or signage, you can now also showcase a company's name, logo, website or whatever you'd like right at the site you're developing—far before construction is finished. This helps set expectations and anticipation for the local market, which your client is sure to love.
A Durable Option That Can Last for Years: If you've only used windscreens on short-term projects, you might not realize that high-quality, heavy-duty options are made to last up to five years (often with warranties, to boot). So while of course windscreens are helpful for shorter projects, they're also useful for lengthier, involved construction, too. This means you can purchase the same durable, reinforced windscreen for a project that takes multiple years and seasons to complete. And they can stand up to harsh weather. Think snow or sleet will take your windscreen down? Think again. Worried that using windscreens won't make sense in northern climates prone to harsh winter months? Take heart — premium windscreens are specially designed to withstand harsh weather conditions, offering your site protection throughout changing climates and temperatures, year-round.
Ask yourself: How could a windscreen improve the way you manage your construction sites? Isn't it time you found out? By adding one to a facility you're building or renovating, you add a way to improve efficiency, productivity and more.
Get a Free Quote
Ready to order or looking for more info? We're here to help!
Questions?
Call Us Today!
Visit Us
CoverSports
5000 Paschall Avenue
Philadelphia, PA 19143, USA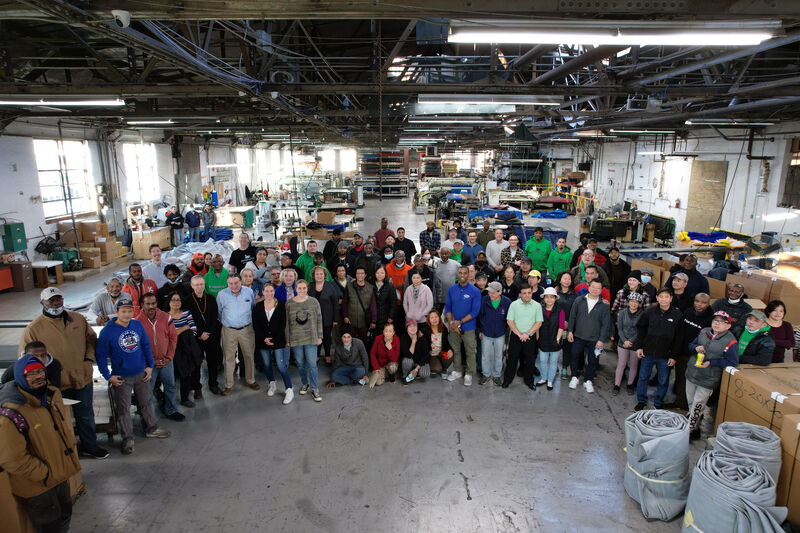 We're here to assist!