Philadelphia Made
Manufacturing Covers for Athletic Surfaces Since 1874
As one of the oldest athletic cover manufacturers, CoverSports has the expertise, knowledge and experience to ensure you receive your product on time, on spec and on budget.
160,000
Sq. Ft. Facility in Philadelphia
50%
Staff with 5+ years seniority
56%
Lower Employee Turnover than Industry Average
Our Story
We at CoverSports trace our roots back to D.C. Humphrys, a company founded in 1874 to manufacture covers for Conestoga wagons. We are one of the oldest continuously manufacturing companies in Philadelphia, owned and managed by six generations of two families over our almost 150 year history. While our product line has evolved into athletic textiles and printing, we continue to provide the "old-fashioned" customer service that has kept us in business for a century and a half.
Family Run for 3 Generations
CoverSports is a family owned and operated company. Founded in Philadelphia by Robert A. Humphrys in 1874, the company was run by the Humphrys family until 1948.
Nate Nissenbaum, founder of a small Philadelphia textile business in 1929, purchased the Humphrys corporation in 1948 from the estate of Robert Humphrys. During this time, canvas drop cloths and tarps were our main wares.
Nate's son, Ron Boots Nissenbaum, joined the company in 1968, working on summer breaks from American University. In 1997, he acquired a small business called CoverSports to break into the athletic market. The rest is history.
Boots' children have now picked up the reins. Zak, President, started as a Sales Rep in 2003. Shana, Director of Sales & Marketing, started as Marketing Manager in 2008. Jamie, Director of Purchasing, started as a Sales Rep in 2010.
Made in Philly
75% of CoverSports staff live in the Philadelphia city limits. Just like the city we call home, our staff is a diverse blend of cultures and backgrounds. Most of us have grown up around here. Many are even the second or third generation in their family working at CoverSports. But we also employ many first generation Americans; people who found in Philadelphia the opportunity they sought and have since settled.
One of the things we are most proud of here is our low turnover rate. We think it says a lot about our company and the people who comprise it that we consistently show less than half the national manufacturing industry average rate of employee turnover. In the end, this benefits our customers, who receive products made by craftsmen with long experience plying their trade.
Benefits of Buying Manufacturer Direct
Capacity to customize products to a high degree
Accurate product information
Direct access for customer service & product support
Great value & low prices
Unparalleled product warranties
Rapid custom order fulfillment
Thorough product quality control
Quick communication & order processing
Expansive selection of products and options
Company Culture
For decades, our priority has been to provide an environment where people can have a career, not just a job. We know the value of a stable and experienced workforce, and want employees to see CoverSports as a place where they can throw down roots and grow.
This means we offer a competitive benefit package, including retirement matching after a year of employment, to all employees. We hire from within whenever possible. We pay wages that are well above the industry average.
CoverSports is a long-surviving textile manufacturer in West Philly. We don't have bean bag chairs, arcade games, or a chic cafeteria on our campus. But we like to think we nail the fundamentals that make a company attractive to employees for the long haul.
Employee of the Month
Vinh Thai
Windscreen Production
Vinh has been instrumental in implementing a new inventory management system in his department, as well as managing a transition to a new shipping process. His efforts recently have made windscreen production faster and more robust, and exemplified CoverSports' ethos of continuous improvement.
Get a Free Quote
Ready to order or looking for more info? We're here to help!
Questions?
Call Us Today!
Visit Us
CoverSports
5000 Paschall Avenue
Philadelphia, PA 19143, USA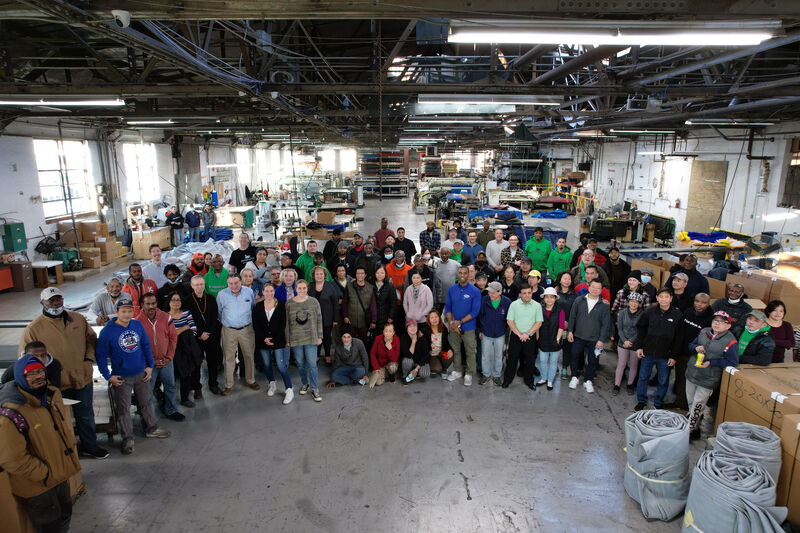 We're here to assist!