Blog
Philadelphia Eagles - Turf Protection from a Pro
August 29, 2011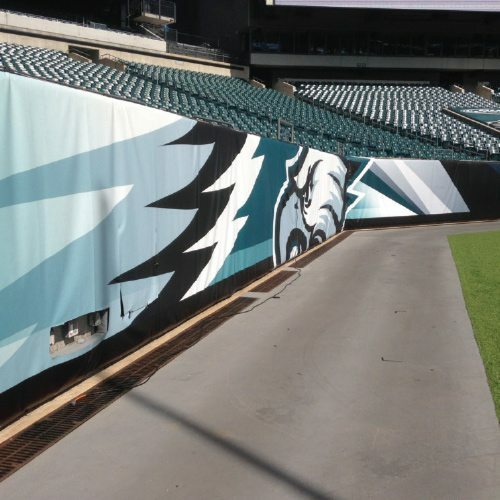 Keeping the football field turf in tip-top shape at Lincoln Financial Field, home of the Philadelphia Eagles, is a labor of love. A professional team of their caliber calls for a playing surface that inspires and facilitates the creation of memorable NFL moments. Tony Leonard, Director of Grounds for the Philadelphia Eagles, is clearly the man for the job. Tony, a CoverSports USA customer, shares his insight on turf management with us.
Q: What is your current title?
A: Director of Grounds
Q: How long have you been with the Philadelphia Eagles?
A: As a subcontractor employee since 1998 and full time since 2000.
Q: What challenges did the NFL lockout present with regard to your job?
A: Financial and employee/intern resources were scaled back. With a tighter budget, we had to cut things like the fertilizers and foliar sprays that we normally use, and manage without interns or seasonal workers. We heavily rely on these employees each year to assist in the athletic field maintenance and landscape maintenance of our department.
Q: What is your most memorable bad weather, turf-related moment at the Linc and did a turf cover play into that moment?
A: Any one of the 3 snow removals we have done. One in 2005 for the NFC championship game, one in 2009 against the 49ers where it snowed 2' and again in 2010 when we had a blizzard before we played the Vikings. Our tarp covers are the only layer protecting the playing field from being torn up with all the traffic and plowing that goes on.
Q: A lot of our customers are high schools and other small organizations that do not have an NFL budget. Do you have any recommendations for how the high schools should prioritize their budget to best maintain their football fields throughout the season?
A: The biggest challenge seems to be manpower to mow, water, seed, or fertilize when needed. Products such as growth regulators do help control growth and allow you to do more. While they are expensive, maybe do a small section to show your decision makers what difference it can make. Utilize capital funds to acquire things like growth blankets to aid the field when the weather gets colder. Many NFL teams rely on turf blankets week to week to help their fields recover.
Q: Do you have any tips/advice for other stadium/field managers regarding how to install protective tarps, remove them, store them, etc.?
A: Our tarps are usually installed by 6 – 8 guys. We use the silver in the summer/fall and the black in the winter. During installation we make sure the tarp is as tight as we can get it so wrinkles do not get in the way of water trying to make its way off the tarp. When removing them, get as much water off of the tarp as possible. This will make it much easier to remove with less people. We fold ours in 3rds like a letter. This causes the remaining water to flow out the one end as we roll the tarp. When storing, be careful not to puncture or scratch the tarp. This will obviously cause serious moisture issues on your field.
Q: What competitive advantage does the field at the Linc offer the players?
A: Having natural grass and an ownership that takes a lot of pride in the surface is very appealing to players. Most players prefer natural grass and we try to provide that. A safe surface is what all players want and that's what we strive for.
Q: Where does your team put the snow once it is plowed off of the field?
A: We have to remove the snow from our stadium lots as well as the stadium stands and field. We have relationships with different sites that allow us to dump snow. We feel we have the best possible snow removal plan in place despite snowfall amounts. Given the architecture and design of the stadium, there are very few ways to remove snow. We do our best and have a great plan in place with our Facility Ops Department.
Q: What are some perks of being Director of Grounds for the Eagles?
A: Always being part of a great League and team. Having the resources to provide the best possible surface possible is a plus but can be challenging. We have access to reviewing literature and products not only in our area but around the world.
Q: Are you able to enjoy watching Eagles games, or are you too focused on how the turf is being damaged by the players and how much work is ahead of you once the game is over?
A: I always enjoy the game itself. I am concerned for the turf but it's our job to fix it before the next game. Realistically, 250 lbs+ guys are pushing off of one another at full exertion or speed. The grass is going to get worn, especially in the winter months. Our job is to find ways to keep in safe and playable.
Q: When do you begin preparing the turf for the next game? Does your turf management timeline change if the Eagles are on the road for two weeks compared to if they have two home games in-a-row?
A: We start immediately after the game. With our busy fall schedule, days are very critical. We can't wait a day or 2 days because we have 2 weeks off. Every day counts if we can do something. We have a pretty good idea of how long certain grass takes to germinate or recover, or even when fertilizer will begin to release. All of these factors are part of our plan. Sometimes things are done days before a game to get ready for a game in 2 weeks. It just depends where we are in the season and what the schedule is.
Q: What type of cover, or cover feature, would you like to have but is not readily available?
A: I would love to see a growth tarp with blue and red LED lights built into it that can be rolled up like a tarp. Very interesting concept but think this is the direction our industry is heading with higher end sports clubs throughout the world.
Get a Free Quote
Ready to order or looking for more info? We're here to help!
Questions?
Call Us Today!
Visit Us
CoverSports
5000 Paschall Avenue
Philadelphia, PA 19143, USA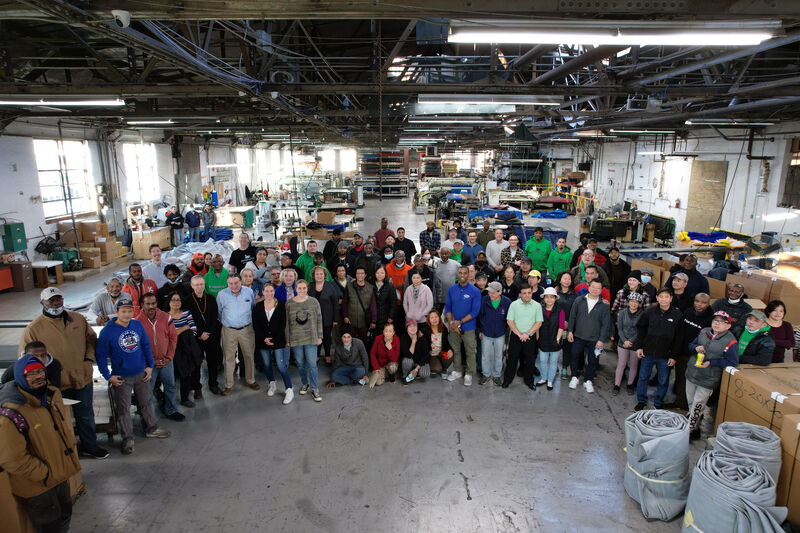 We're here to assist!