Field Guide
Handling Full Infield Tarps
September 30, 2019
Professionals can make the deployment and removal of infield tarps look smooth and easy, but that isn't always the reality. Handling full infield tarps can quickly turn into a nightmare with the influence of wind and rain, and all tarps require some special care if you want them to last. The more you know about proper handling of a full infield tarp, the lower the probability that you will end up wrestling a tarp monster.
Wind Safety Issues
The major enemy you will face when dealing with tarps is wind. The first task is to make sure that the group deploying the tarp understands what windward and leeward mean. Windward refers to upwind side of the cover while leeward refers to the downwind side. Most trouble occurs on the windward side, so that is where you want to place your best, most experienced crew members. Once the windward side is secured, the leeward side will ripple, but wind does not actually get beneath the cover.

One of the best ways to keep the wind from getting beneath the infield tarp is to keep it as low to the ground as possible. If the wind does get beneath the tarp, your instinct is probably going to be to grab hold of it and hold on for dear life, but that isn't always the wisest course of action. In some cases, it is best to have the crew on the windward side sit down on their segment of the field cover's edge and wait for the wind to die down a bit before trying to continue. You risk a separated shoulder if you try to wrestle the tarp against a strong gust of wind.
To keep the tarp in place and prevent wind damage, you can use sandbags to weight it down along with staking down the tarp at the grommets. When using the grommets, it's critical to use every grommet so that wind can't work its way underneath the cover. You can also purchase weighted spot covers (that don't require stakes or sandbags) for the bases, home plate, and/or mound.
The Good and Bad Aspects of Rain
Just a few minutes of heavy rain can make it very difficult to do anything with a tarp. In some circumstances, you may need to remove as much water as possible from the surface of the tarp before you try to position it over the infield or strike it. Rain can actually turn out to be your friend, however: Water weighs down the tarp, and when storm winds pick up, that same water can help hold your field cover firmly on the ground. However, don't let that water rest on the tarp indefinitely; the extreme weight of the water can damage the infield tarp when you try to move it. A soft roller can be used to remove much of the excess water, but just remember to wear soft soled shoes when walking on the tarp.

Tarp Rollers and Covers
In most cases, the infield tarp is rolled on a tarp roller, making tarps not only easy to store but much easier (and safer) to both deploy and strike. Keep in mind that a 170'x 170' tarp can weigh 1,200 pounds or more! Once the tarp is placed on the roller, a storage cover can easily be placed over it to protect it from damage and the elements. UV sunlight can cause the tarp to deteriorate, so sun exposure should be avoided when the tarp is not in use. Before storage and covering, however, the tarp needs to be as free of soil as possible.
Cleaning Infield Tarps
Soil is heavy, and the easiest way to remove it is to dump the excess water and allow the soil on the top side to dry. Once that is done, fold the tarp in half and open it up again. Do the same for the other side and you will have a fairly clean tarp.
Hole Repair
Another aspect of working with full infield tarps is dealing with the inevitable holes that develop. No matter how well constructed the cover, rodents and long term exposure to abrasion will take their toll. Holes need to be repaired as soon as possible to prevent them from growing larger. You should start by cleaning the area with soapy water and allowing it to thoroughly dry. Repair tape should then be applied to both sides. Repairs made in this fashion end up being stronger than the original undamaged fabric.
Avoid Unnecessary Stress at the Handles
When folding/unfolding an infield tarp, make sure that every handle is being manned by crew members to avoid undue stress and possible damage at the handles. For the same reason, don't use motorized equipment to move the tarp, as it can not be attached in a way that spreads force evenly across the entire edge of the cover. Also don't try to move the cover at all if a significant amount of water is sitting on top of it. In some cases, after the field cover is unfolded, it will need to be slid into position (e.g., unfolded in left-field grass and slid over the infield).
Conclusion
Deploying and striking full infield tarps can be a challenge, but the hints and tips provided here should help minimize those problems. In addition, proper maintenance of your infield tarp – cleaning, repair, storage, and protection – will help your tarp live up to the investment you made in it.
CoverSports
Humphrys CoverSports has over 145 years of experience providing protective covers for both gyms and athletic fields. If you are looking for durable, high-quality protective covers with or without your image digitally printed on them, then CoverSports is your answer. Fast delivery, competitive pricing, name brands, and customization options are just a few of the reasons why so many college and professional teams depend on us for their cover needs.

Get a Free Quote
Ready to order or looking for more info? We're here to help!
Questions?
Call Us Today!
Visit Us
CoverSports
5000 Paschall Avenue
Philadelphia, PA 19143, USA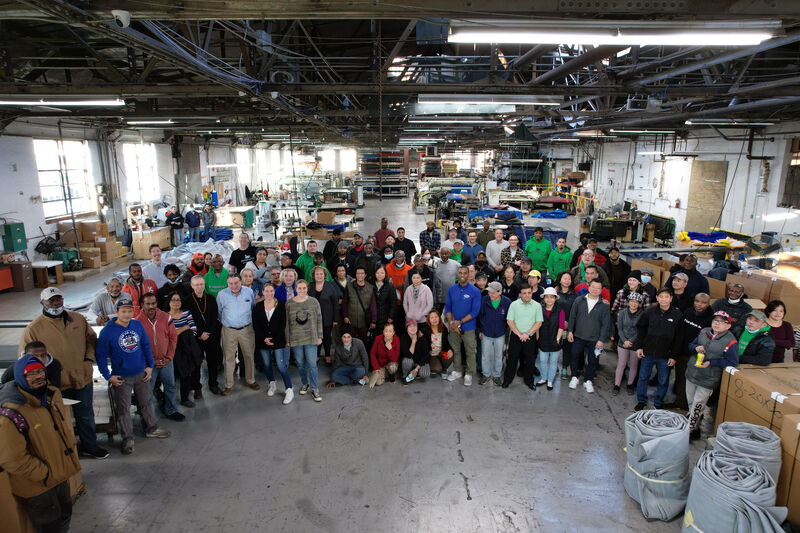 We're here to assist!