Giving Back
Weighted Jump Pit Cover Protects Eagle Scout Project
August 21, 2013
A Boy Scout Eagle Project Enhances the Physical Education Program at Local Middle School – CoverSports Supplies Jump Pit Cover to Protect Their Hard Work

A Boy Scout is required to complete one Eagle Project in order to earn the highest rank in Scouting, Eagle Scout. An Eagle Project is a leadership project. They work on it themselves but the majority of the project is coordinating and supervising.
Looking for ideas for a Boy Scout Eagle Project? The following are the steps taken by Nicholas Bravo of Troop 122 of Rogers, Arkansas.
First Step: Nicolas identified a project that would meet the requirements of an Eagle Project, which includes fulfilling a need in the community. He discovered a need at the local middle school he used to attend – Oakdale Middle School. In discussions with the Football/Track coach at the school in August of 2012, the coach expressed a need for adding the long jump and triple jump to their program. Prior to the renovation, they had to go to the high school for practice. The coach also wanted to incorporate these activities into the physical education classes.
Second Step: Fundraising
Nicolas raised approximately $450 through a See's Candy fundraiser. He received donations from others as well (parents' co-workers, family, friends). The school paid for the asphalt from their activities fund ($1000). He secured donations for the gravel, sand, landscape timbers and treated 2 x 4's.
Nicolas approached the Heritage High School Booster Club and spoke at one of their meetings. He used a poster board display to describe the project to them. They donated $500 towards his project which was used to purchase the 18oz. Vinyl Weighted Jump Pit Cover in Purple from CoverSports. Nicolas researched long jump sand pit covers and found CoverSports to have the best assortment at the best pricing.
Third Step: Project Completion
Nicolas started the project the end of May 2013, as soon as the school year ended, and it took 18 days and 320 hours of labor to complete (not including the time spent planning and obtaining donations and materials). They made the runway 5 ft wide x 90 ft long of asphalt framed in
2 x 4 lumber. The sand pit is 8 ft wide x 24 ft long and 2 ft deep. It is framed in landscape timbers.
The following are the steps taken to construct the jump pit:
1. Excavation of the runway and sand pit
2 Frame sand pit with landscape timbers
3. Lay 8" gravel base in sand pit
4. Cover with mesh
5. Put in 16" of sand (11 yards)
6. Cap timbers with 2 x 4's
7. Level out runway
8. Frame runway with 2 x 4's
9. Asphalt is laid
10. Paint stripes on the runway
11. Lay sod to fill in the sides to prevent runoff of water
12. Ready to jump

For more information about track protection from CoverSports, including Weighted Track Protectors and Jump Pit Covers, please visit our Track Covers page.
Get a Free Quote
Ready to order or looking for more info? We're here to help!
Questions?
Call Us Today!
Visit Us
CoverSports
5000 Paschall Avenue
Philadelphia, PA 19143, USA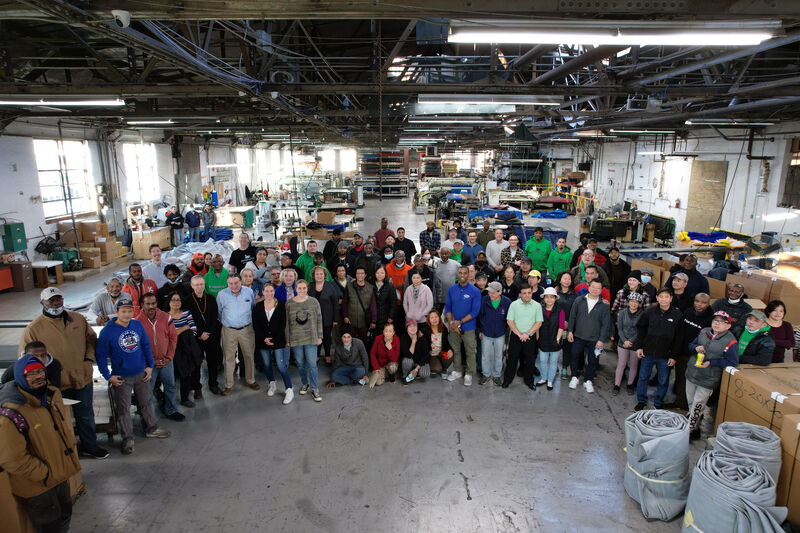 We're here to assist!