Blog
Use a Gym Floor Cover to Convert a School Gym into Temporary Classroom or Cafeteria Space
August 07, 2020
Schools across the country are looking at a return to the classroom amidst a pandemic. Accomplishing this safely is one of the foremost concerns of administrators, teachers, and parents alike right now. In addition to precautions like facial coverings, readily available sanitizer, daily health checks, and the daily sanitization of facilities, schools are trying to enable students and teachers to maintain social distance whenever possible. While exactly how to operate a school safely in this environment is a matter of contentious debate, the effectiveness of social distancing is uniformly agreed upon. As the CDC explains in their guidelines for schools preparing for a safe return, very few preventative measures are as certain to prevent the spread of COVID-19 as the maintenance of distance between individuals.
This presents a problem for typically crowded schools, where space is always at a premium. Temporary structures such as tents, trailers, and pavilions are a popular solution for adding usable space outside the confines of existing school structures, but the shortcomings of this solution will become apparent as the seasons change. A better solution is to turn existing single-use space within schools into multipurpose space. The gymnasium in particular offers a great deal of often under-utilized indoor space, but it comes with one major issue: a traditional hardwood gym floor is easily damaged by non-athletic shoes, desks, and tables. Easy to deploy GymGuard® gym floor covers are a quick and effective solution to this problem, protecting the valuable hardwood and allowing the use of Gymnasium space for classes and cafeteria overflow.
How Do Gym Floor Covers Help?
A vinyl gym floor cover system can be deployed from a GymGuard rack to cover an entire gym in about 30 minutes with 2 people. Once deployed, it provides a complete barrier between damaging non-athletic activities and the hardwood gym floor. These gym floors often cost a hundred thousand dollars or more, and are vulnerable to damage from non-athletic use. Refinishing a damaged gym floor can cost thousands or tens of thousands alone, as well as lead to extended downtime. Desks, tables, and harsh street-shoes will not be able to penetrate the durable vinyl surface of a purpose-made gym floor cover to harm the floor underneath. The gymnasium can then be used without risk for classes & additional cafeteria space.
A gym floor cover can also enable a quick turnaround for normal gymnasium use. It also takes 30 minutes or less for two people to pick up and store a floor cover on a GymGuard rack, and the surface can be cleaned simultaneously using the optional brush assembly. This is often an easier operation than cleaning a gym floor alone.
How Does a GymGuard Gym Floor Cover Work?
A GymGuard gym floor cover consists of 10 foot wide rolls of durable vinyl fabric in lengths usually around 100 feet. These rolls are mounted onto a purpose built rack built to make deployment and retraction of the cover simple. The rack is rolled to the rough spot on one side of a gym where a row of cover will start, and then it is easily unrolled and positioned by two people. The rack is then moved 9 feet for the next row, and on until the whole floor is covered. We recommend 6 inches of overlap on each roll. Then rows are joined together with specially formulated tape to create a continuous surface without risk of tripping. This can be applied quickly and easily with a walk-behind dispenser. When it is time to remove the cover, the process is almost the same. Tape is removed, and the storage rack is wheeled over one end of each strip of floor cover. The end is picked up (and optionally threaded underneath the brush assembly) and clipped onto one of the rollers on the rack. Then, two people can then wind the cover up with either the included hand crank or an optional power winder. Once all strips of cover are rolled up, the rack can be wheeled into a storage closet, or be pushed against a wall and covered by an optional vinyl cover.
GymGuard comes in 4 different weights: 18 oz, 22 oz, 27 oz, and 32 oz. Which weight we recommend depends on how frequently a floor cover is going to be used. For daily use, 27 or 32 oz. is strongly recommended. These fabrics come in many different colors, and a textured, high-traction version is available in the two highest weight fabrics. All of our GymGuard fabrics are waterproof, fire retardant, anti-bacterial, and anti-fungal, and as a result are easy to clean and disinfect. They are also highly resistant to mildew when being stored.
Custom Floor Covers to Fit Any Space
While we do offer off-the-shelf 10×100 rolls of cover in our most popular colors, most of our floor covers are custom cut to fit the dimensions of your gymnasium. Are you looking to turn your school's gym into multipurpose classroom or cafeteria space this fall? Give us a call at 800-445-6680, or email us at websales@coversports.com. We would love to answer any questions you have about how this might fit your needs.
Get a Free Quote
Ready to order or looking for more info? We're here to help!
Questions?
Call Us Today!
Visit Us
CoverSports
5000 Paschall Avenue
Philadelphia, PA 19143, USA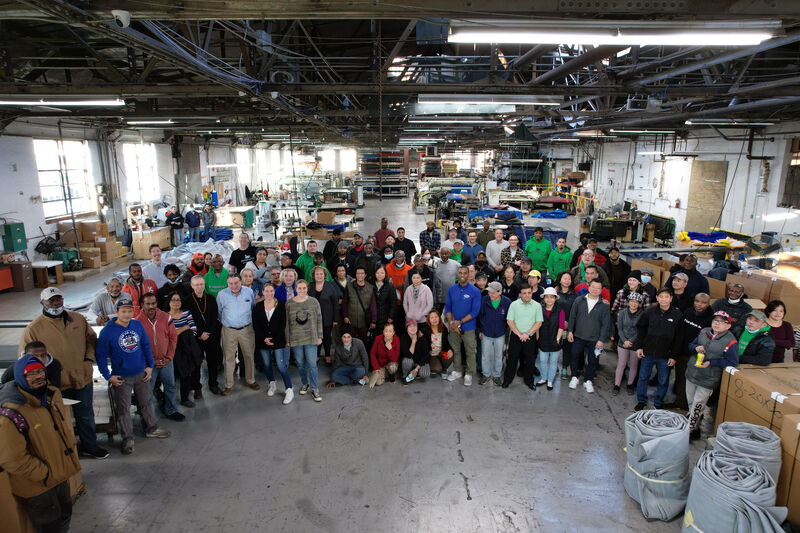 We're here to assist!